With its long and varied history, the military is full of traditions and practices that have its roots deep in history.
While many of us non-military people may scoff or find all this so-called pomp and grandeur unnecessary, the truth is these traditions carry a lot of weight, significance, and history behind them.
Which means that when they are conducted, they are often done with utmost sincerity and appreciation.
One of these practices in the United States Marine Corps (also abbreviated as the USMC) is something called the "First Salute".
Sometimes called the "Silver Dollar Salute," it is the very first salute a newly commissioned officer receives.
This very first salute, however, is a little more special than the other salutes this new officer will receive for the rest of the life.
For starters, the newly commissioned officer picks who gets the privilege of honouring their new position for the first time.
Tradition dictates that you would pick an enlisted service member (they can be retirees too!) who had great impact or influence on their journey to this position, so that you can show your appreciation for their support all this while.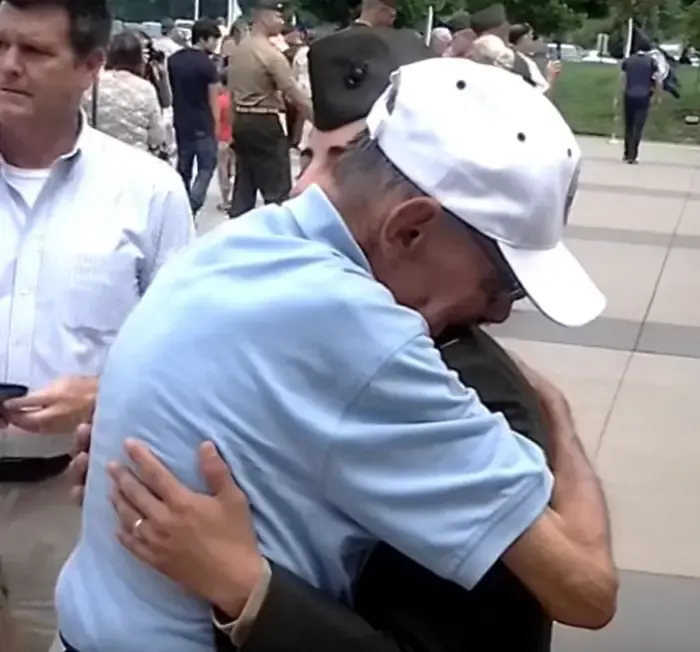 In the case of Charlotte Williams, the decision was a no-brainer.
Williams had been commissioned as a second lieutenant, and had to choose who will be given the privilege of saluting her for the very first time as an officer.
Her chosen candidate?
James William, enlisted Marine and retired Staff Sergeant of the USMC – also better known to her as her grandfather
This was an incredibly heartwarming decision, and one that made perfect sense.
With her grandfather being an ex-Marine himself, he must have had plenty of influence on his beloved granddaughter.
It was likely that he was the one who supported her throughout her entire upward climb through the ranks of the Navy as well. It was only right he be given such a privilege and honor!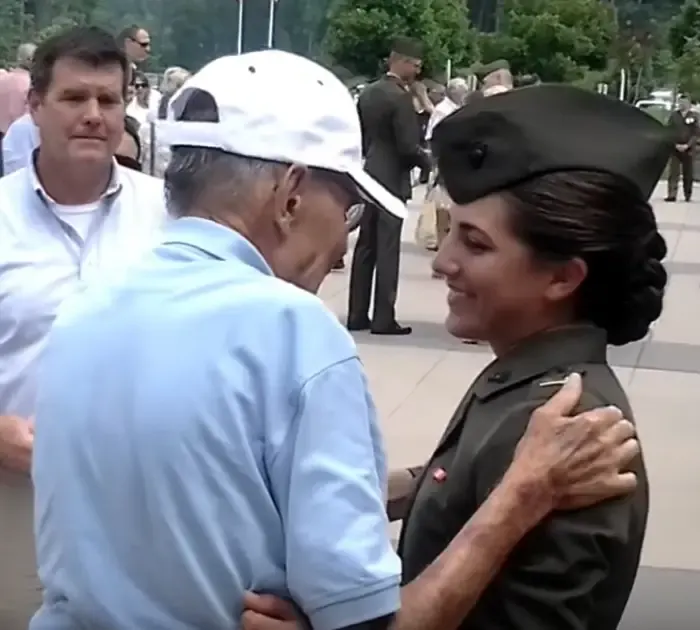 Upon the completion of the newly commissioned Lieutenant Williams's ceremony, it was time for her first salute.
For this, she walked out of the National Museum of Marine Corps base in Quantico, Virginia. There, her grandfather had been waiting for her.
He gave her the honorable First Salute, then asked for the permission to give his granddaughter a hug.
Of course she gave him that permission. Who would say no to a request like that?
The two then embraced, and it was a heartwarming moment.
Her grandfather then gave her a kiss on the cheek – an adorable moment that spoke volumes about how close the two are.
In a video that was taken of Williams's first salute, she can be overheard telling her grandfather that she was glad he came.
Considering her grandfather's apparent age, it was likely that it may have been – at the very least – a slight struggle for him to make it.
But what matters is that he had arrived!
The two were full of smiles – it is certainly a great example of intergenerational familial love, and one that is sure to make anyone feel warm and fuzzy too!