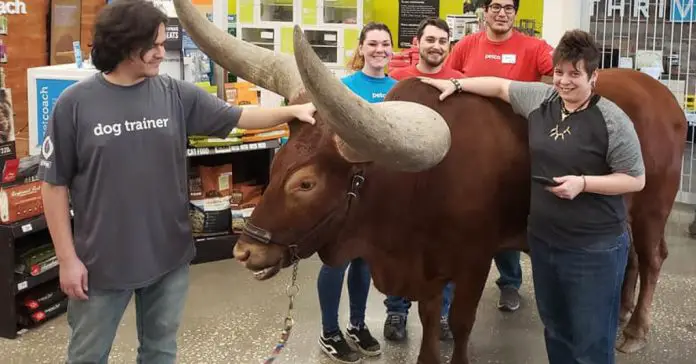 Everyone knows Petco is where the pets go, and the pet superstore likes to remind pet owners that all leashed pets are welcome.
Most people limit themselves to just taking their dogs there, however, while more eccentric pet owners might opt for visiting with their cat or lizard.
No one expected to see the beast Shelly Lumpkin and Oliver Browning decided to take on an outing to a Texas Petco on a fine March day.
Lumpkin and Browning walked into the Atascocita Petco with Oliver, their African Watusi long-horn steer, strapped to a rope leash behind them.
Weighing over 1,500 pounds and with a horn length of up to 5 feet that can span 8 feet from tip to tip, an Ankole-Watusi steer is a sight to behold.
It could easily gore a lion in its natural habitat, yet this mild-mannered bovine can actually make a great pet and is friendly towards humans.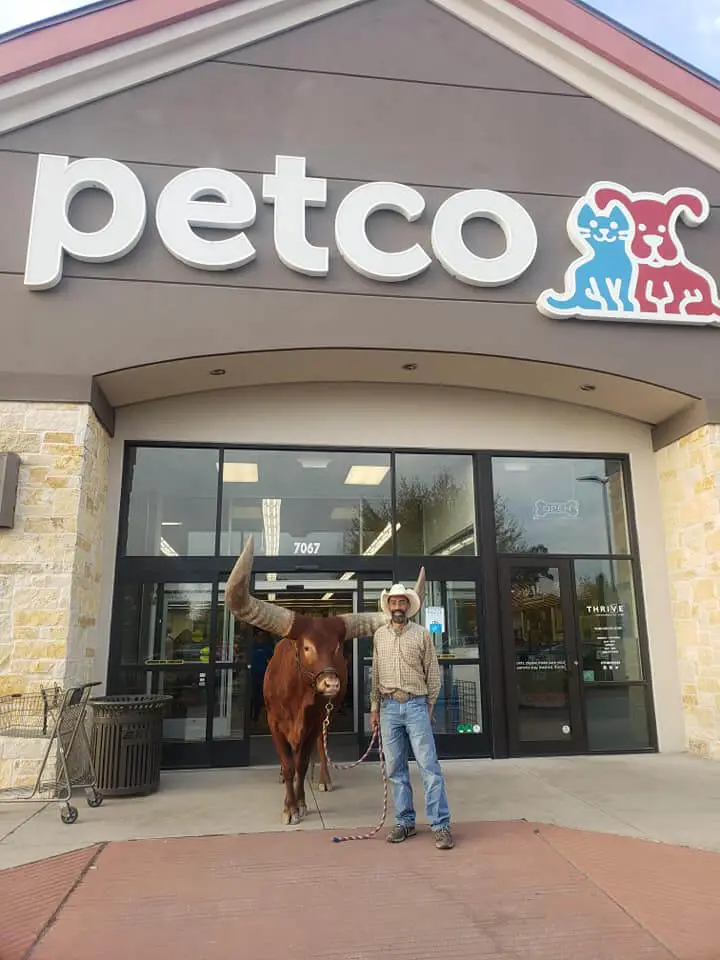 According to Browning, they wanted to call Petco's bluff on their "All Leashed Pet's Welcome" policy when they squeezed Oliver through the pet store's front doors.
Yet they were surprised at how the employees reacted.
In a video posted on Browning's Facebook page, you can hear employees welcoming the unlikely trio as if nothing were out of the ordinary.
One friendly employee says "Welcome to South Texas Petco" right as they walk through the door, before approaching them to pet their exotic animal.
"The awesome crew at Petco – Atascocita did not disappoint!!" Browning wrote on his Facebook wall.
"They welcomed Oliver the African Watusi with open arms. The staff members here are always super friendly and courteous to us. We really enjoy coming to this location…our favorite Petco BY FAR!!"
A picture posted by Browning even shows a handful of Petco employees petting Oliver, who looks like he's smiling and enjoying all the attention.
What's the weirdest animal you've ever seen at a Petco?