The more than 4,000 species of bees native to North America, a very vital part of the planet's fragile ecosystem, are losing their habitats in alarming numbers.
As more bees die off, the pollination efforts they contribute toward making healthy plants is also disappearing.
The good news is that anyone can make a difference in helping create new homes for native bees and helping to stop their alarming decline in numbers.
Creating bee houses helps keep bees in your own garden, where females can each individually build their own nest to be near other female bees in the same species.
A bee house you construct yourself serves as an attractive addition to any home's backyard or garden.
It will quickly welcome and house bees that are known for their solitary behavior nesting in available cavities.
A bee house you build yourself provides an artificial nesting structure that solitary female bees known as mason bees can put to good use as a safe place when laying their eggs.
These houses provide shelter and a safe nesting place for bees, especially during bad weather, environmental pollutants, and predators which can easily disturb the bees normal reproductive cycles.
Although you can purchase bee hotels that have been commercially made, but their glass and plastic construction materials often invite the growth of dangerous bacteria and fungus that can harm bee larvae.
Many commercially designed bee houses are also difficult to clean after the summer nesting season.
To start building your very own bee hotel, get a simple container or sturdy empty box which you can then fill with pinecones, bamboo shoots, sticks or small wooden logs into which you have drilled holes.
Use a discarded metal license plate to create a sturdy roof for the bee hotel.
If you have an old birdhouse you are no longer using, take the house as your base container and add a bent license plate on top to form the roof.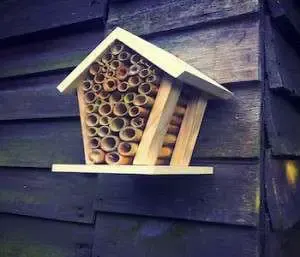 Remove the birdhouse walls, and simply use the remaining frame, adding bamboo stalks or wooden blocks with holes drilled to create cavities inside for the bees eggs.
You can also turn a clay pot into a bee home by filling it with pinecones, sticks and cardboard to create a series of holes into which the bees can safely lay their eggs.
Cinderblocks can be put to good use to create high-rise bee hotels by stacking them one on top of another.
Then fill the gaps in the cinderblocks with bamboo stalks or a wood logs drilled with holes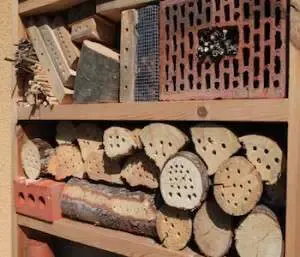 A glass mason jar can be filled with small tubes or bamboo shoots to create a safe harbor for solitary bees.
Simply set it out in the garden near flowering plants to attract the insects.
Don't discard that used wine box.
You can arrange bits of wood or bamboo canes inside to create a nice nesting texture for female solitary bees.
Not only does a bee hotel you create yourself make your garden a more attractive place, it will also save the lives of endangered native species bees in America.
Remember to share this with your friends!