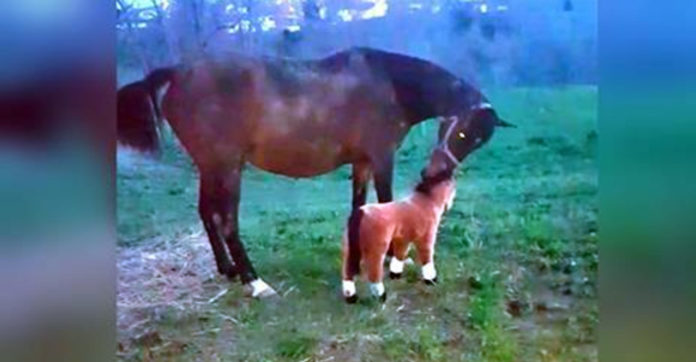 Jealousy is never a pretty thing. Jealousy can make us do some pretty stupid things. Animals get jealous too. Take Gypsy, a large brown horse, for example. Her owners have a miniature stuffed horse, and they put it out in the field with Gypsy. Gypsy is not keen on the competition. She walks over and gives the small stuffed horse a good sniff.
Maybe Gypsy's owners wanted her to have a new toy or friend. Gypsy wasn't at all interested in the fake horse. So, maybe we are seeing disappointment, not jealousy. Anyway, you may get a kick out of Gypsy's reaction to the stuffed imposter – her owner sure did! Watch the video to see what Gypsy did to the new arrival.
Take a look at this video
Maybe next time they should just get Gypsy an apple or a sugar cube as a treat. Clearly she doesn't want fake horses in her pasture!
Share away, people.