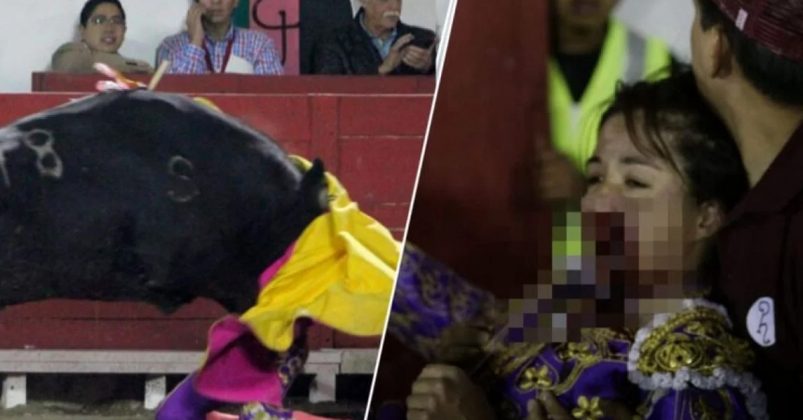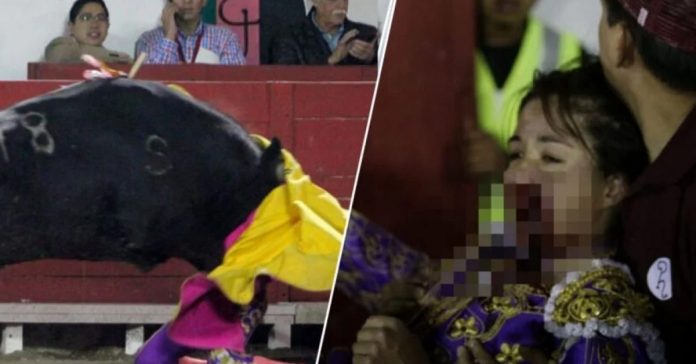 A female bullfighter was recently attacked by a bull after falling to the ground. The half-ton animal gored the woman's face with his horns.
Hilda Tenorio, an experienced Mexican matador, was taken to the hospital after sustaining several injuries during her most recent bullfight.
Horrifying images of her injuries were posted online after the incident.
La torera mexicana #HildaTenorio sufre aparatosa cornada en el rostro en plaza de #Puebla 🐂🚨⚠️😱 pic.twitter.com/NeKcLZTeVV

— AnonymusSinCensura (@anonymus_sin) May 5, 2019
Tenorio was on her knees as the bull placed his horns at the same level as her face and charged.
Surgeon's have treated a fracture in both of Tenorio's cheekbones as well as one located in her upper jaw.
According to El Universal, the accident took place at a bull ring called 'El Relicario' in the small town of Puebla, Mexico.
The bullfight was part of the town's fair celebrations.
Footage of the incident shows the massive bull, called 'Querido Viejo', charging and attacking the kneeling Tenorio.
En la @FeriaPuebla @Hilda_Tenorio recibió en El Relicario a su toro de rodillas mismo que la arrolló propinándole un brutal golpe en el rostro, se teme fractura de mandíbula, por lo que ya está siendo valorada en un hospital de la ciudad de Puebla. pic.twitter.com/8xNUddK5rH

— Carlos Martin Huerta (@carlosmartinh) May 4, 2019
The bull's name translates roughly as "My Dear Old Friend".
The horrifying footage has already gained a substantial amount of attention from media outlets across the world.
Tenorio posted updates about her condition on social media and thanked her fans for their loyal support.
She acknowledged that her injuries are serious and have prevented her from getting a decent sleep. She was forced to sit up in bed all night.
Tenorio also mentioned that the doctors have confirmed that her jaw is broken and her cheeks have been fractured from the eye sockets.
She jokingly wished that her platinum face would be worth more.
Before the terrifying incident, Tenorio had expressed her excitement to return to Puebla.
She Tweeted that the town reminded her of the earlier parts of her career in bullfighting.
Allegedly, this isn't the first time that the 32-year-old has sustained significant injuries from a bull.
She was reportedly gored by another bull towards the beginning of her career. According to 'El Universal', this first injury required 80 stitches to fix.
Many supporters of animal rights have taken to social media to voice their outrage over bullfighting events.
Many users on social media commented that Tenorio brought the injuries upon herself.
Others kindly requested that the bullfighter take this time to reconsider her choices.