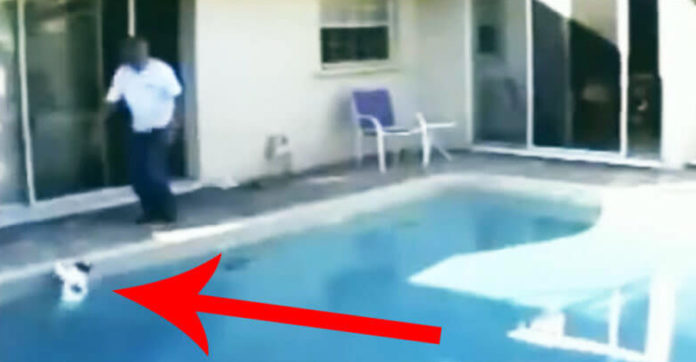 We have all heard the stories about how cats and dogs don't get along. But, it isn't always true! I have a dog and several cats – my dog gets along with them! They love to snuggle and give each other baths! But, it is true that some dogs and some cats don't get along – I mean there are people in the world who don't get along either, so it really shouldn't be shocking that cats and dogs sometimes have problems with each other.
In this video, a sneaky dachshund has pushed a black and white cat into a pool. Now, as many of you are probably aware, there are many (many) cats who don't like water. Tigers, however, are known to love to splash and play in the water. But, this story isn't about a tiger, it is about a house cat – who just so happens to hate water!
So, you can imagine the panic the cat goes through when it realizes it has just been pushed into the pool! Luckily for the cat, there is a man nearby who quickly pulls the cat out! It is a quick video and a little grainy, so it isn't easy to see what the dog and cat were doing just before the cat took an unexpected plunge!
Take a look at this video
What is for certain is that the dog took the opportunity to run into the house! I wonder if the cat will now plan some sort of revenge for this?! Share away, people!