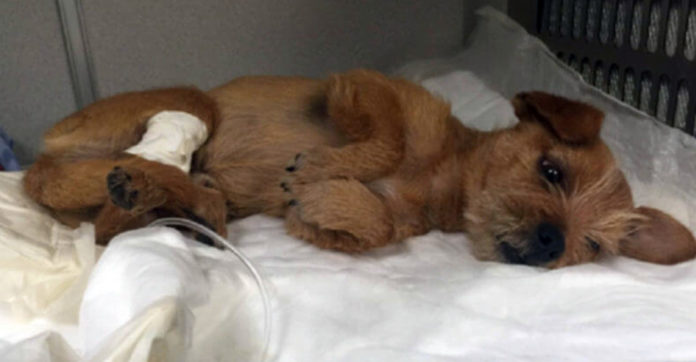 Every year, millions of people in the United States suffer an injury to the brain. Only about half of the injuries are severe enough to make people go to the hospital. Traumatic brain injury (TBI) is when an outside force (like a violent blow to the head) causes brain dysfunction. Most of the time, we think of TBI coming from a car accident or even a sporting event.
According to the Mayo Clinic, some of the initial symptoms are blurry vision, confusion, and difficulty concentrating. Humans are not the only ones who can get a TBI (or craniocerebral trauma). In Eugene, Oregon, Earl, the terrier was found with a TBI – he was found lying in a parking lot in serious need of help.
Take a look at this puppy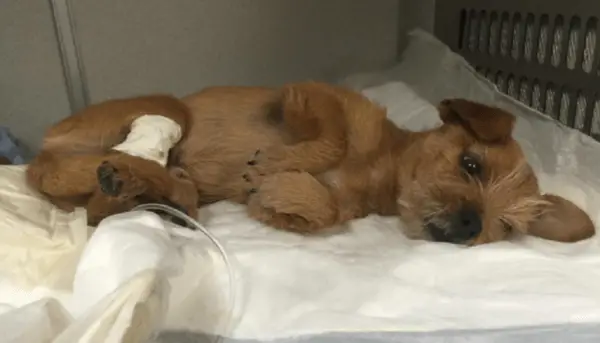 Earl was taken to an emergency veterinary hospital – and happily was released soon after! He still needs some time to recover and will be spending time in a foster home. The man responsible for his condition was identified as Zachary Michael Ralston, 24. Ralston was seen by a witness kicking, choking, and punching Earl.
Thankfully, the monster was taken off the streets and charged with aggravated animal abuse. It was unclear at the time of the incident if Earl would make a full recovery – but it is a good sign that he was released from the hospital and allowed to go into foster care. Earl deserves a happy home and a happy life! Share away, people.