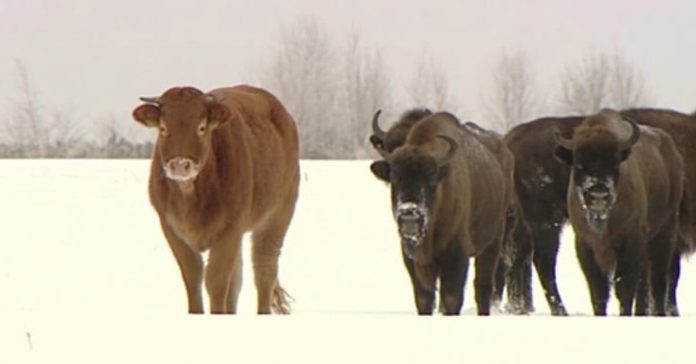 It's not that unusual for a cow to wander away from a farm field and be discovered somewhere down the road.
But in Eastern Poland last winter, a Limousin-breed cow seemed to be ready for a more unique adventure.
For months, there was no sighting of the missing cow and her owners didn't know what to think. When the wandering creature was finally found, everyone was in for a surprise.
The missing cow was peacefully co-existing with a herd of bison.
What amazes scientists is that cows and bison usually don't get along with one another, much less does a bison herd accept a strange bovine into their ranks.
Ornithologist Adam Zbyryt immediately took photographs after coming across the cow peacefully standing amidst several bison.
After he posted it online, word soon spread about the unusual new member of a bison herd in the forest.
Soon came the confirmation that this was the exact same cow that had wandered away from a family farm several months ago.
Area naturalists found this a wonderful opportunity to study interactions between two different types of animals.
Rafal Kowalczyk, an expert on bison from the Mammal Research Institute at the Polish Academy of Sciences, calls what he saw in the photograph a very exceptional occurrence.
But he also expressed concern that the cow could survive for very long among her new-found adopted bison family.
Limousin-breed cows cannot tolerate harsh winter weather, unlike the bison who stand outdoors no matter how inclement the weather gets.
The fact that this past winter throughout the Bialowieza Forest was unseasonably mild may account for the fact that the cow after several months was still alive and healthy.
There are also concerns for the safety of the bison in this herd after the introduction of a cow.
Kowalczyk reports that the cow, an adolescent, will eventually be in the mood to mate.
She may become impregnated by one of the bison and may not survive delivering a hybrid cow-bison, or be able to adequately care for it if it survives the birthing process.
But for the meantime, it appears that any antagonism between cows and bison has proven to be untrue in all cases.