Hidden cameras have uncovered a very dark and disturbing secret in the coastal city of Cherbourg, France.
This undercover operation was undertaken to find out how animals being transported from Ireland to markets in mainland Europe were being treated.
The results are extremely disturbing and show numerous acts of inhumane cruelty.
In the video, calves no older than three weeks old are seen being victimized by heartless and cruel workers who seemed to take pleasure in striking the hapless creatures and jumping on their bodies.
The film was taken at a resting post and displays violence that has shocked those in the animal rights community.
Some of the calves are seen collapsing following beatings that involved multiple blows from workers paid to care for these live exports.
This video is believed to be the first successful attempt to show on film the violence perpetrated against these animals being sent to Europe.
What is particularly chilling is the casual way one worker uses a rod to continually beat the young and frightened animals.
Other atrocities committed against the calves by workers are being forcefully grabbed by their ears so they can dragged to nearby feeders.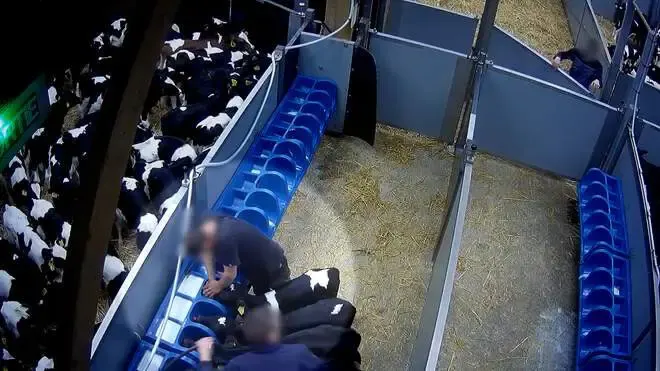 Then, while the thirsty animals are drinking water, workers continue to beat them with a rod, with one poor calf being slammed aggressively into the ground.
Yet another worker is seen roughly pulling another calf away from the feeder in order to beat him before shoving his body back toward the feeder.
One of the worst moments captured on film is of one worker gleefully stomping on the body of another calf.
Eyes on Animals and L214, two animal rights organizations, undertook the investigation and released the video footage.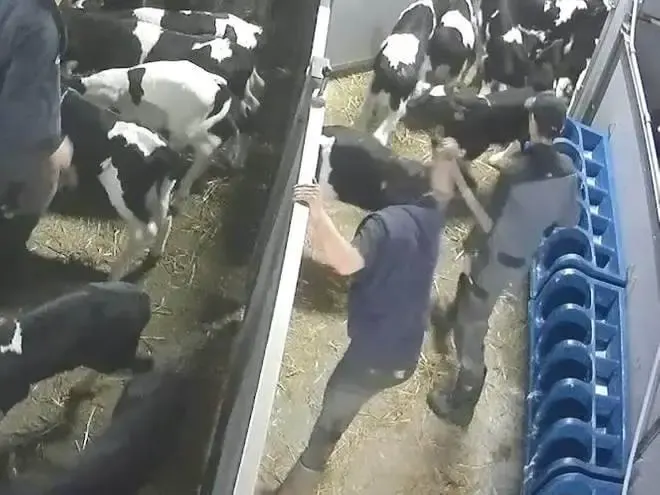 They said that the young calves experienced an exhausting 18-hour road trip that started in Rosslare before arriving at Cherbourg.
A spokesperson for Eyes on Animals reports that the calves suffered from weakness and extreme exhaustion in addition to exhibiting such symptoms as upset stomachs, diarrhea, hunger, dehydration and lack of rest, due not only to overcrowded conditions but also the inhumane action of the workers.
French news media reports that as a result of the video going viral, one man is under arrest for animal cruelty.