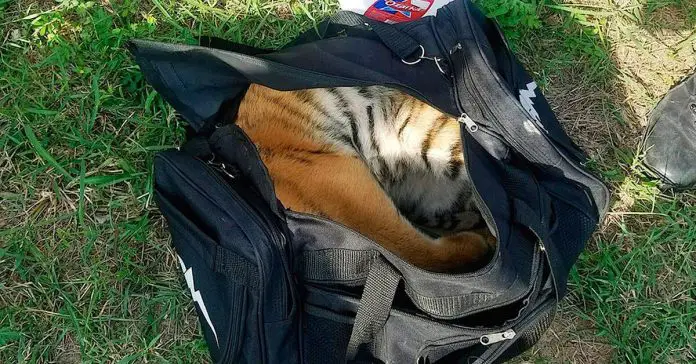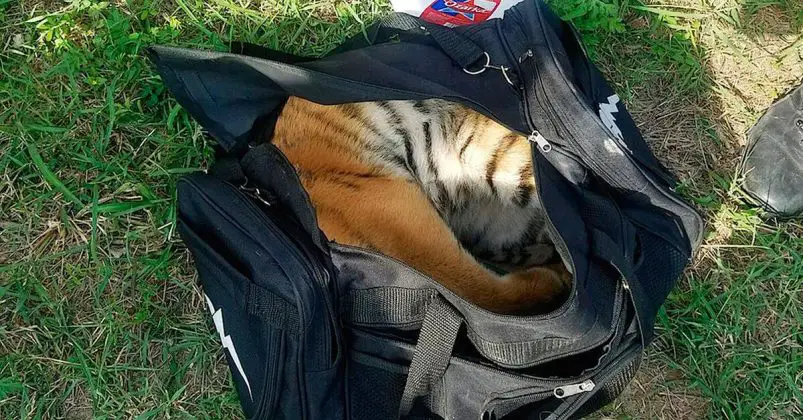 Marshall Maynard is a border patrol agent who works in Brownsville, Texas.
He spotted three people who were trying to sneak across the border into the United States illegally.
One was carrying a black duffel bag when Maynard spotted them. He dropped it and fled with the others before Maynard was able to stop them.
When the agent picked up the bag to inspect the contents he was shocked to find a 3-month-old tiger baby.
The cub was alive but motionless, as it had likely been sedated for the trip.
The agents quickly rushed the tiger cub to the nearest hospital to get it the medical aid it so desperately needed.
The cub was described as being "on death's doorstep" and was suffering from a 107 degree temperature.
Thirty more minutes zipped up in a duffel bag would have probably killed him.
Luckily, the Gladys Porter Zoo took in the tiger cub, where he quickly regained his health. The cub doubled in weight and has returned to a healthy glow.
He now weighs 70 pounds and can be found playing around with the other animals in the zoo and investigating his surroundings most days.
Thomas DeMaar is a senior veterinarian who spoke out about the problem of wildlife trafficking.
He said that the Gladys Porter Zoo is using the rescue as an opportunity to talk about how wild animals should never be kept as pets.
He went on to say that many people do not realize the negative effect these problems have when it comes to wildlife conservation.
The zoo then sent the tiger to another animal sanctuary in Wylie, Texas. Here, the tiger will receive the care and love that he needs.