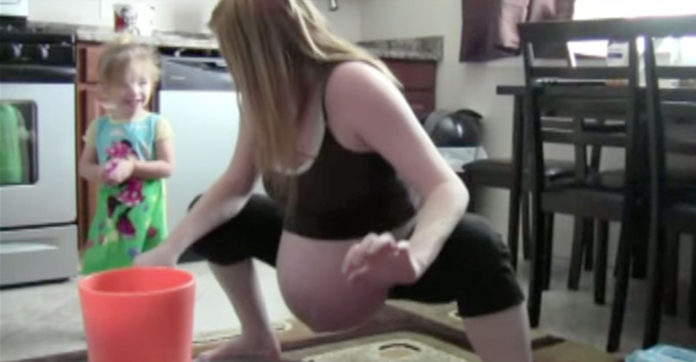 Being pregnant is a wonderful gift, but as the months go on, many expecting mothers find themselves just wanting it to be over already and their child to be in their arms. That's how Jess was feeling at 38 weeks of being pregnant with twins!
Jess had barely been getting any sleep and had been experiencing 16 days worth of contractions, and doctors were out of suggestions that she could use to induce labor. She was 4cm dilated and 70% effaced, but the twins just weren't popping out!
After countless false alarms, Jess was just about done with being pregnant. Then she realized – there was still one thing she hadn't tried: dancing! With her daughter in tow – who was also eagerly expecting her younger siblings – Jess set up some music and began to dance along.
With the hilarious choice of Justin Bieber's "Baby" – perhaps in order to coax the babies out when they keep getting called – Jess really gets to grooving! She puts on some impressive moves and even gets down and dirty with some sexy moves you'd see on a club dancefloor. On top of all that, she even performs a split. Those are some slick moves for anyone – and even more for a woman who's over nine months pregnant!
Did the dancing work? Sadly, no – but the twins did finally arrive a few days later, so maybe there was just a delayed response! Since then, Jess and her YouTube channel have grown to over 600,000 subscribers, and her family has grown to include a ton more kids! Share away, people!