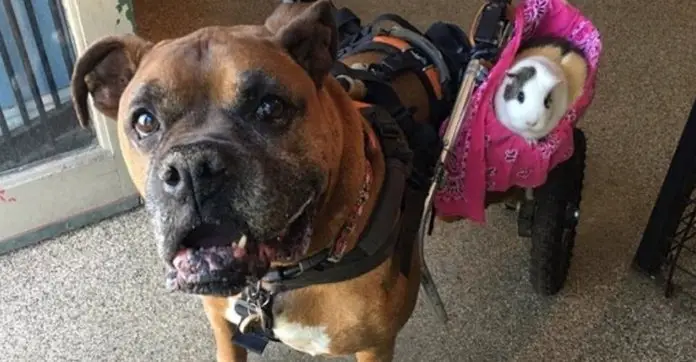 Rex and S'mores are BFFs. Rex just so happens to be a dog and S'mores is a guinea pig. But that doesn't stop these two from having a great time together! Rex has degenerative myelopathy (DM) and needs a wheelchair to get around. DM, a progressive disease of the spinal cord, will cause paralysis in older dogs.
DM is a rather common disease in larger breed dogs and manifests between the ages of 8 and 14. Holly Walthers, Rex's owner, attached a little basket to the side or Rex's wheelchair just for S'mores! Holly is the woman behind the Leo Puppy Mill Survivor Facebook Page.
Take a look at this video
Her organization is known as "Team Leo, " and they have helped save many dogs, like Rex, from being killed at the shelter. Rex and S'mores live in Vail, Colorado and you can follow their adventures on Facebook. Share away, people!