The problem with being homeless is that it is a reality that can happen to just about anyone.
Life is often a cruel mistress, and whether we realise it or not, we are all often just a few steps away from potential homelessness ourselves.
It only really takes a short streak of unfortunate events coming in too close together for us to recover from before we find ourselves faced with no other choice but to hit the streets.

In light of this, plus the fact that we are all trying to be kind and compassionate people to our fellow human beings, it is a common adage that we ought to be giving to the poor and needy around us.
This was certainly an adage that these three friends decided to put into practice one night.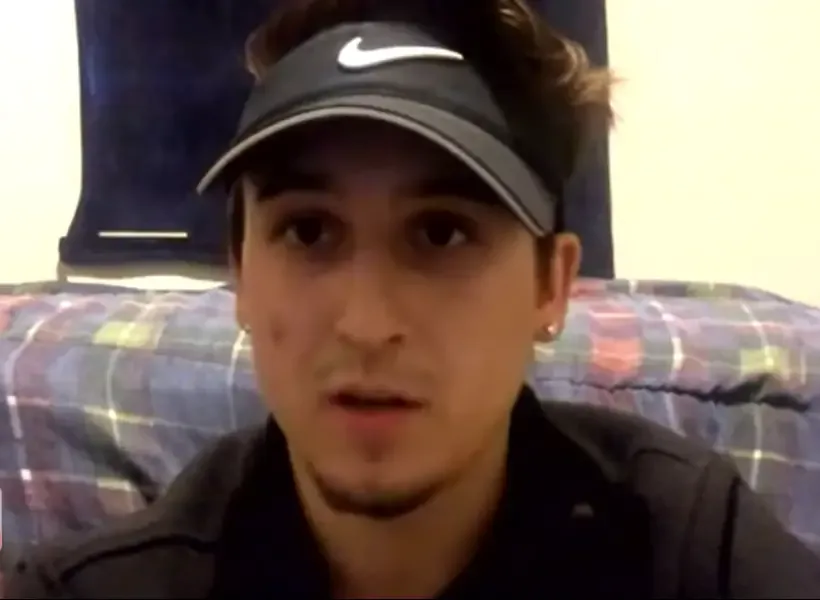 19-year old young adult Ryan Cook and his friends, Alberto Montiel and Joshua Mechell were grabbing dinner together from a nearby Chick-fil-A restaurant located in the city of Corpus Christi, Texas.
It wasn't too long before they noticed a man who was quietly counting out all the money he had in the world on the table, trying to scrape together enough change for dinner that evening.

The man, as it turns out, was a local homeless man known as Eddie.
According to the staff at the restaurant, Eddie was a regular visitor. However, he was no beggar, and hardly ever asked for scraps himself.
Rather, his focus was on his beloved pet dog named Socks, who was always fed first, should he beg for food.
Instead, he normally came into the restaurant in the hopes of getting some water for his dog to drink.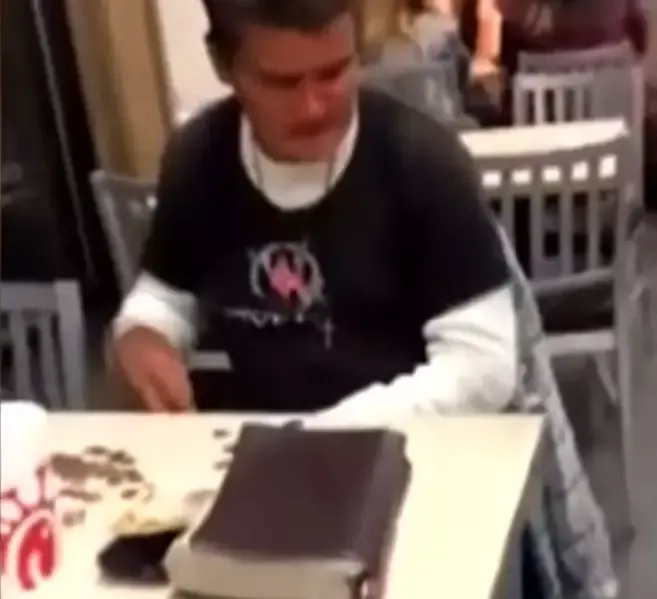 That evening, he had been sitting at that restaurant with a worn-out picture of Jesus and a Bible on his table as he struggled to make ends meet.
This, as it turned out, was what prompted Cook and his friends into action.
Upon seeing the Christian imagery, they realised that it was a sign calling them to help their fellow man in need.

The trio immediately left to buy some things for Eddie, in hopes of helping out the homeless man.
At first, they simply brought some Chik-fil-A gift cards for Eddie, so that he could buy himself a meal. They didn't stop there, however.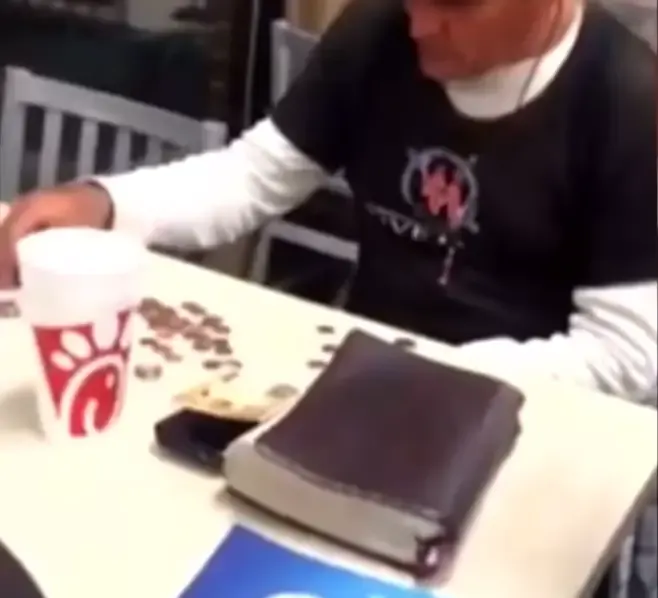 Upon realising this would only help Eddie once, the trio decided to do something more substantial and left the restaurant, where they entered Dick's Sporting Goods.
There, they spent $50 to buy Eddie some much-needed gear to withstand the cold winter, including a first-aid kit,  three new shirts, a winter hat, and a winter jacket.
The store employees, upon learning the reason behind these three friends' purchase, also contributed another $20 to the cause, along with some extra display items.

After their shopping trip, the three returned to the fast-food restaurant, where Eddie was still there counting all the coins on the table.
While his friends presented the supplies to Eddie, Cook recorded the whole exchange on his phone and later uploaded it onto Facebook as an example for others.
SEE ALSO: Man Eats Lunch With Homeless Woman Every Day, Then Her Confession Changes Everything