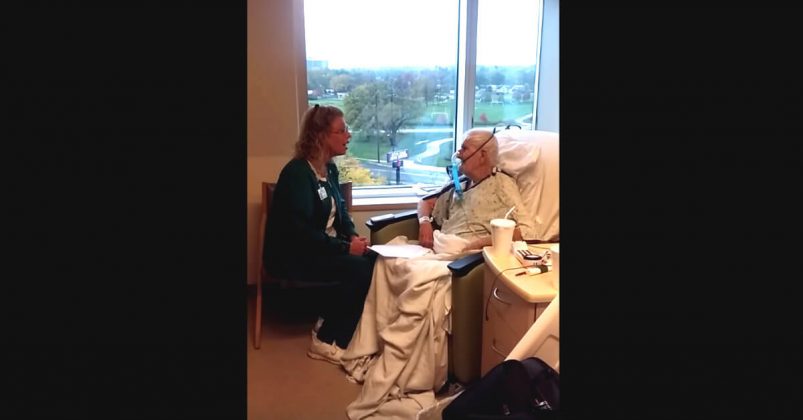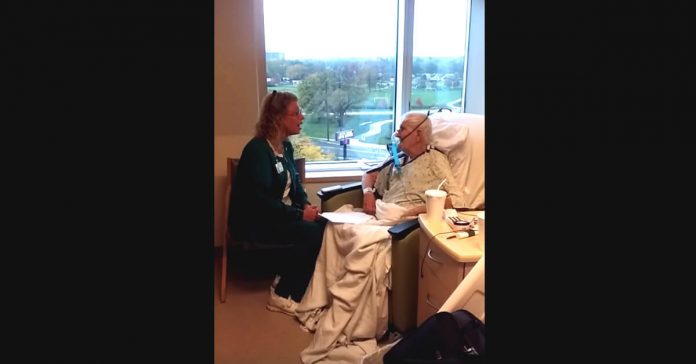 It can be absolutely devastating to find out that someone staying in a hospital may never be able to go back home for the rest of their life.
Through this difficult time in one's life, nurses in these hospitals do everything they can to make their patients feel comfortable and help them get through this major life change.
Brenda Burrstra is one of the countless nurses around the world who lives every day being compassionate, patient, and caring towards the patients in her care.
She works in Kalamazoo, Michigan, and every day, she helps tens upon tens of people.
No one knew, until very recently, that she even has a secret superpower that works wonders for those in her charge!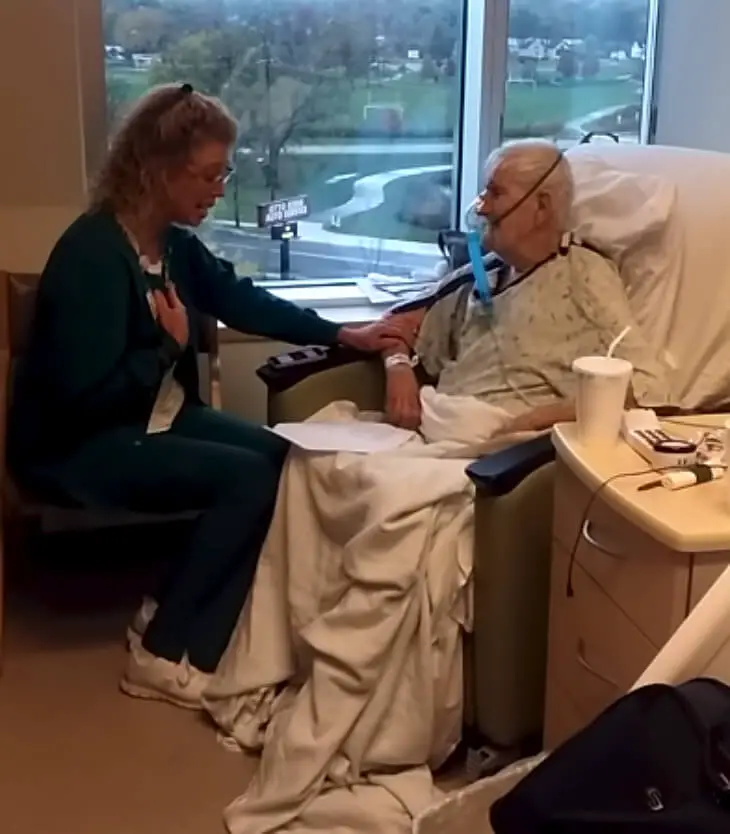 One such patient of Burrstra's is Robert Olson.
Olson arrived at the hospital due to breathing difficulties, and though it wasn't his first trip to a medical institution, it seemed that his symptoms this time were much more severe.
An incredibly hardworking individual, Robert had worked diligently for most of his life and only retired at the age of 85.
Due to his age, Olson couldn't use a pacemaker, so he wound up being admitted for hospice care.
His family, including his daughter, didn't think he would be coming home anymore – a truly heartbreaking thought.
He was rushed into Bronson Hospital, which is where Burrstra herself works, and he was placed in her care.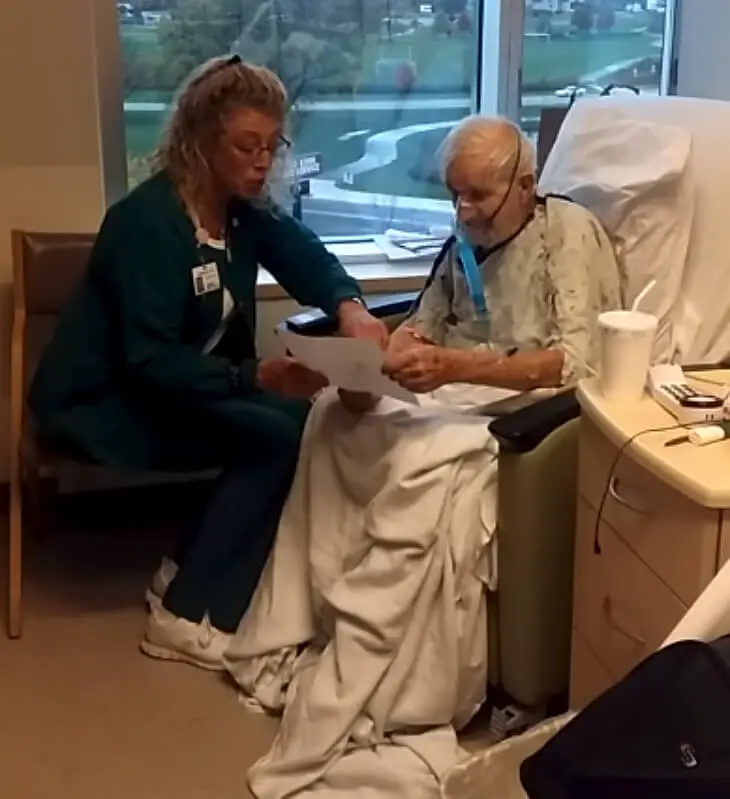 Olson and his daughter, Roberta Lytle, tried to make the most of his stay. Together, they turned on the TV and watched the shows that came on.
At one point, they were enjoying a show centered on singer, actor, and composer Pat Boone. It was at this time that Burrstra stepped in to check on them.
Conversationally, Olson informed the nurse that he wasn't a big fan of Pat Boone himself at all, but that he very much enjoyed the song You Light Up My Life, which is by the artist's daughter, Debby Boone.
It was a struggle for him to get this message across, as he was experiencing trouble speaking. But Burrstra just happened to know that song herself.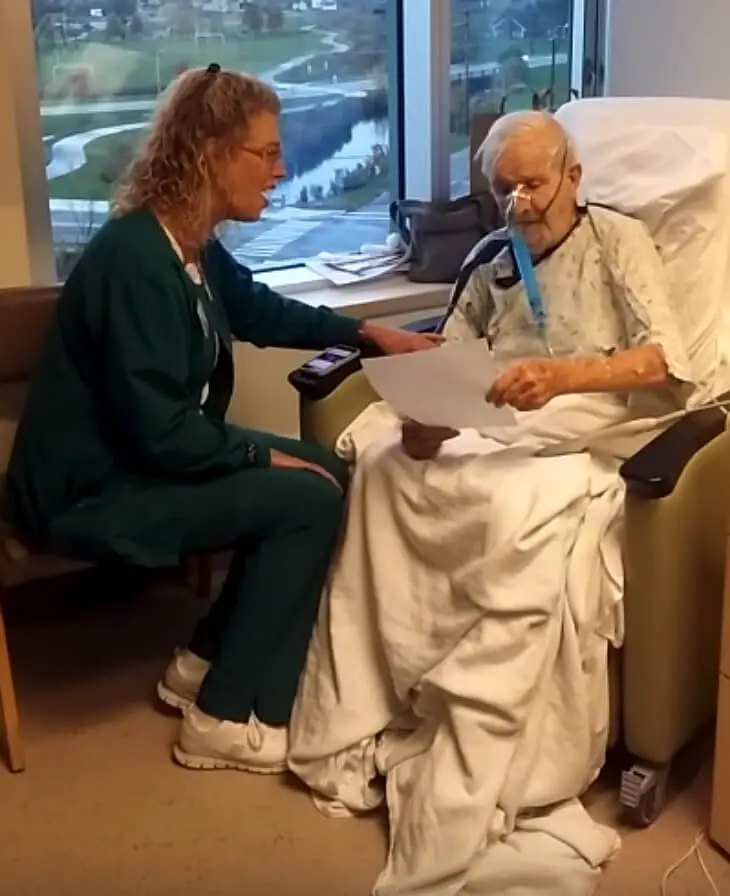 Burrstra told him she didn't know some of the song's lyrics, so she said she would go home, get the lyrics all printed out, and come back the following day to sing to him.
Olson and Lytle were surprised and pleased at her offer.
The next day, Burrstra made good on her promise and sang her heart out to Olson, revealing an incredibly beautiful voice.
As she sang, Olson visibly perked up.
His expression brightened considerably and he smiled brightly, as though the song touched his heart and really was lighting up his life, just as its title suggests – and he even tried to sing along!
Lytle took a video of what happened, which has since gone viral and brought tears to the eyes of viewers all around the world!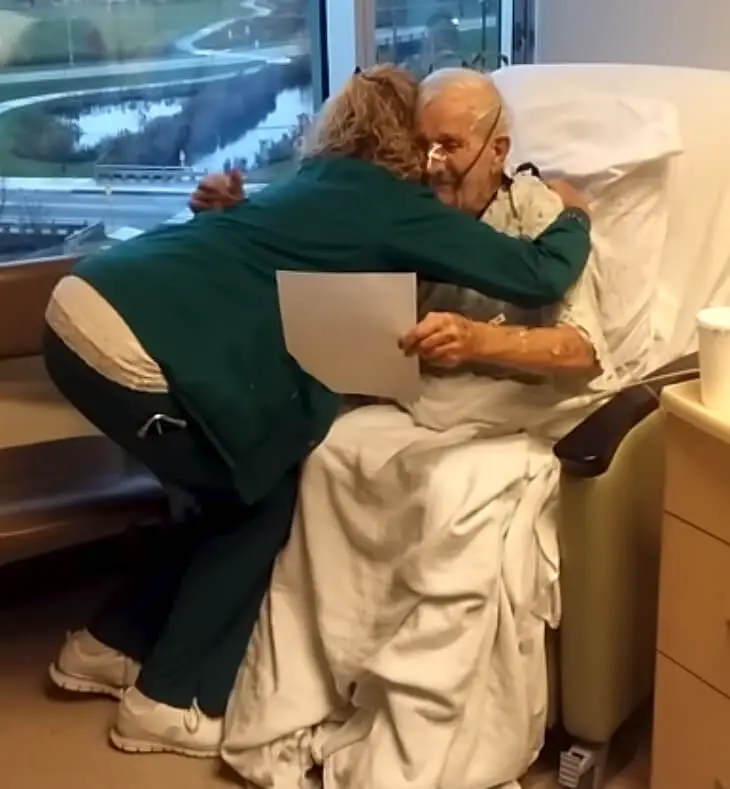 And it seems like this singing had a big effect on Olson, too.
After just one week, he was able to leave the hospice and return home, even though it seemed like an impossibility before then.
Burrstra's singing had lifted his spirits and strengthened him.
Apparently, Burrstra has been singing to her patients for an impressive 14 years.
It's something she does to help ease their pain, and she makes it clear that she is far from the only nurse at the hospital who goes above and beyond for those in her care – everyone does, in their own ways.
Nurses and other healthcare workers are truly a gift to us all!