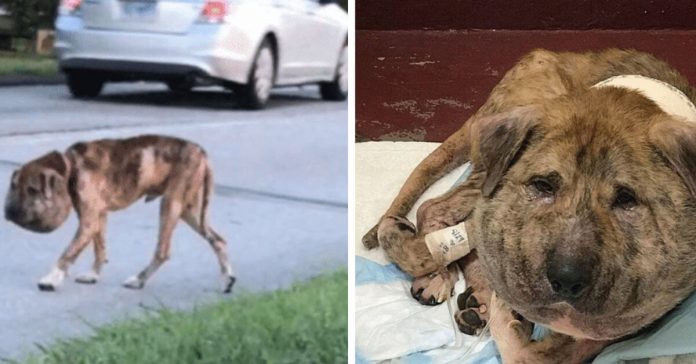 A dog who survived torture and was abandoned to wander the streets of Houston found a friend in dog rescuer Laura Jean.
After hearing a local TV news report from KHOU 11 that a dog the station nicknamed Gus was seen for about a year in the 12000 block of MLK Boulevard with shoelaces painfully digging into his neck, she decided to track him down.
Unfortunately, no one had been able or willing to spend the time to catch him to get him the proper medical care he needed.
That's when Laura Jean went into action, posting photos that she was able to take when she spotted Gus in that neighborhood on her Facebook page.
Alerting neighbors that this canine was in serious trouble and shaming all of the cars passing by that day who refused to help her safely catch him.
Laura provided her contact information and reported that Gus was last observed entering an apartment complex in that neighborhood.
She also pleaded for anyone to come forward who could help her find this poor animal by donating their time or donating funds for his medical care.
Thanks to social media, Laura was able to find Gus quickly to get him the help he so deserved.
Alerted by her Facebook post, Houston K-911 Rescue sent a team to the area to continue the search for Gus.
Rob Acuna and his partner Tom couldn't believe their good luck when they spotted Gus and he started walking towards them!
But both men said they could have easily missed out on finding the tortured animal, because there were several abandoned buildings where he could have been hiding.
But when they saw an opening in one of the buildings, they decided to shine their flashlight inside. It wasn't long before Gus approached them.
The team managed to rescue him without causing further injury. Up close, they could see just how badly Gus had been treated and how severe his injuries were.
Not only was the poor canine filthy dirty, he was starving for food, with a shoelace tied so tightly around his neck that it caused deep lacerations along with trachea damage.
The team took Gus immediately for medical treatment. X-rays revealed he had also been shot and had at least 25 pellet gun bullets still lodged inside his emaciated body.
The rescue organization sent Gus for continued treatment at the animal hospital located on the Texas A & M campus.
He underwent surgery to remove scar tissue, helping facilitate his recovery.
With the shoelace removed from around his neck, his head was able to return to normal size.
Gus was then taken home by veterinary hospital worker Marina Harrison, who served as his foster mother while he recuperated.
Gus has since found a forever home in the arms of a loving family who promises to love and care for him unconditionally after his surviving more than 12 months of trauma.