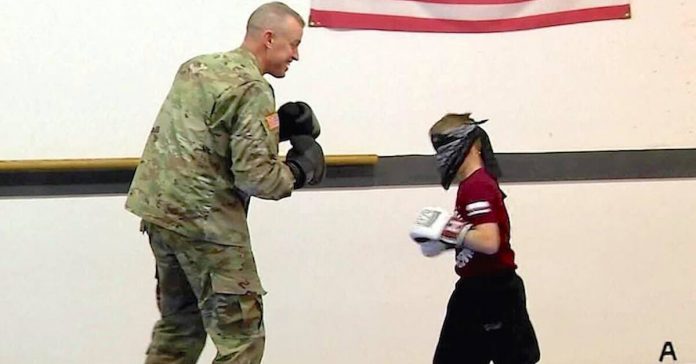 Life has been a bit stressful for 9-year-old Luca Cesternino.
The little boy from Tennessee started taking lessons in taekwondo to help channel some of his energy in a productive manner.
These lessons help build his confidence as well.
Staff Sergeant Rob Cesternino, Luca's father, works for the Tennessee National Guard.
He was deployed in Syria and Jordan for a total of 10 months. He was finally sent back home in May of 2018.
Luca has six other siblings and the distance hasn't been easy for any member of the family.
While he was abroad, Rob made sure to contact Luca a few times per month either by phone or video chat.
In this video clip, Luca can be seen taking his normal taekwondo lessons.
In order to strengthen his reaction times and instinctive reflexes, Luca's instructor has him wear a blindfold. However, there was another purpose for the blindfold.
Luca fought well with three different sparring partners. Although the blindfold posed a unique obstacle, Luca still sparred quite well.
However, something was very different about this third sparring partner.
The male voice kept calling Luca by a nickname that not many people use. In fact, there is only one person that calls Luca by this name.
When Luca realized that he was sparring with his father, he ripped off his blindfold and jumped into this father's arms.
There wasn't a dry eye in the room during this emotional moment.
Rob was awarded with an early release and wanted to provide his youngest son with the surprise of a lifetime.
Share this heartwarming scene with your friends!