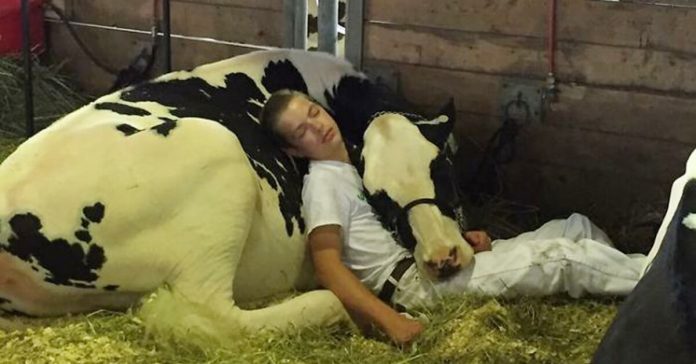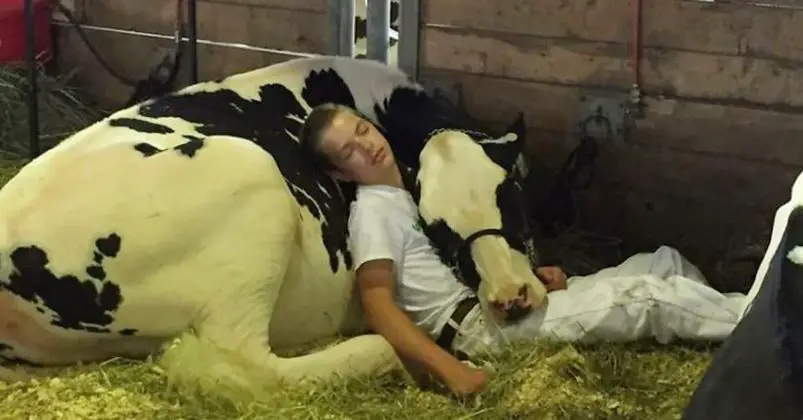 Iowan Mitchell Miner, a 15-year-old farmer, and his beloved cow Audri were photographed sleeping together after the events of the Iowa State Fair's youth dairy cattle event.
While the duo failed to earn the event's blue ribbon, they soon won the adoration of thousands of people online from a photograph of the two snoozing in a straw-lined barn.
While the two had become tuckered out after weeks of preparing for the contest by rising before the sun, the added demand of rising at 3 in the morning for the competition seemed to be the final toll on their endurance.
Understandably, the two of them concluded the event, placing 5th out of 7, by finding a place to nap.
Jeremy Miner, Mitchell's father, saw the heart-warming photo opportunity and captured the image that grabbed the attention of the internet and several major news outlets.
While Mitchell was let down that the judges did not see Audri as perfect a cow as he felt she was, he was more than pleased with all of the work he put into caring for her.
Comments regarding the photo and its viral success were both positive and negative.
Some mentioned that it evoked memories of life on the farm, working before the sun begins to care for animals, and involvement with 4-H.
Others positive comments chimed in that the photo exemplified the relationship between an animal and the people who put their heart and energy into caring for it.
The less pleasant comments questioned Audri's fate, since she had done so poorly in the fair.
Jeremy Miner responded to comments, mentioning that the raising of livestock is an intensely demanding and intensely satisfying experience; that the animal's wellness takes priority over that of the farmer.